Tons of fascinating gems are hidden away in several different spots in the city of Rochester, Michigan. While many of the locals have at least heard about or even seen them, not all tourists or visitors have seen or visited them.
If you're planning to move to Rochester or you intend to tour the city, I've compiled a simple list of some of the most sought-after hidden gems you'd love to see.
6 Hidden Gems in Rochester, MI
Here are the most sought-after gems in Rochester:
1. Meadow Brook Hall
Meadow Brook is a landmark home built by one of the most outstanding women in the automotive industry known as Matilda Dodge Wilson. She's the widow of automotive inventor John Dodge as well as her latter husband Alfred Wilson.
Built between 1926 and 1929, this outstanding piece of architecture cost $4 million at that time. Today, the structure symbolizes a model of Tudor-revival architecture in the United States.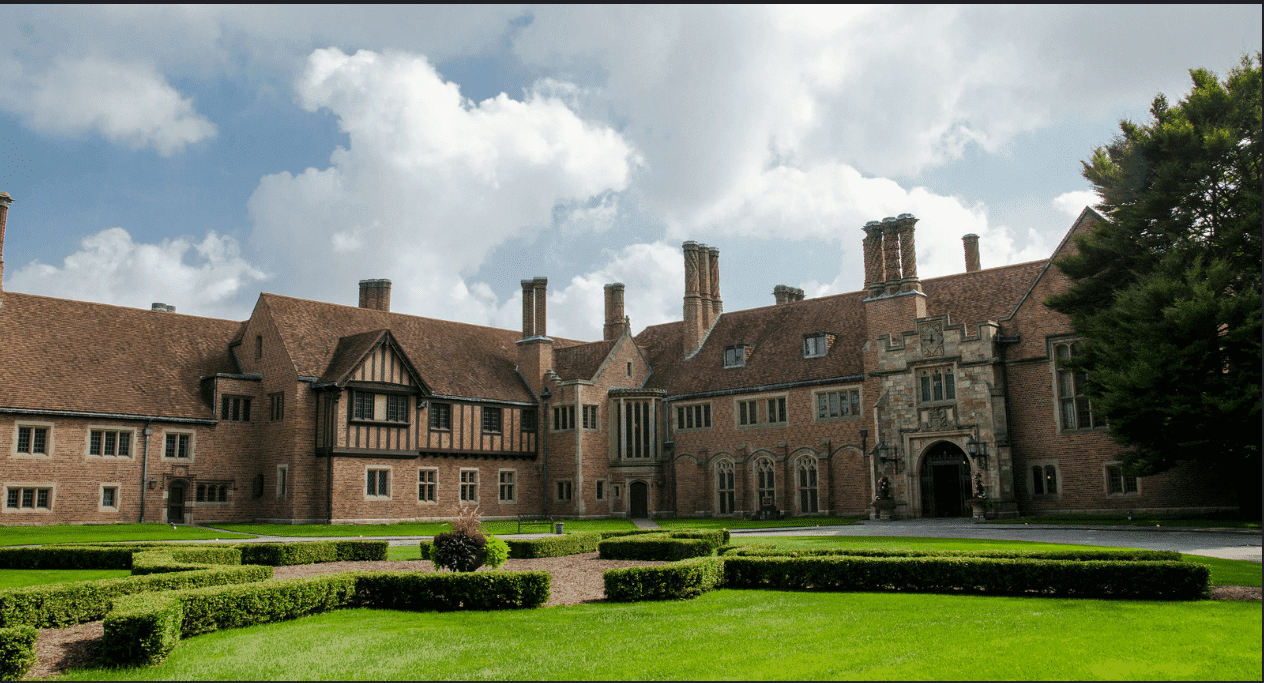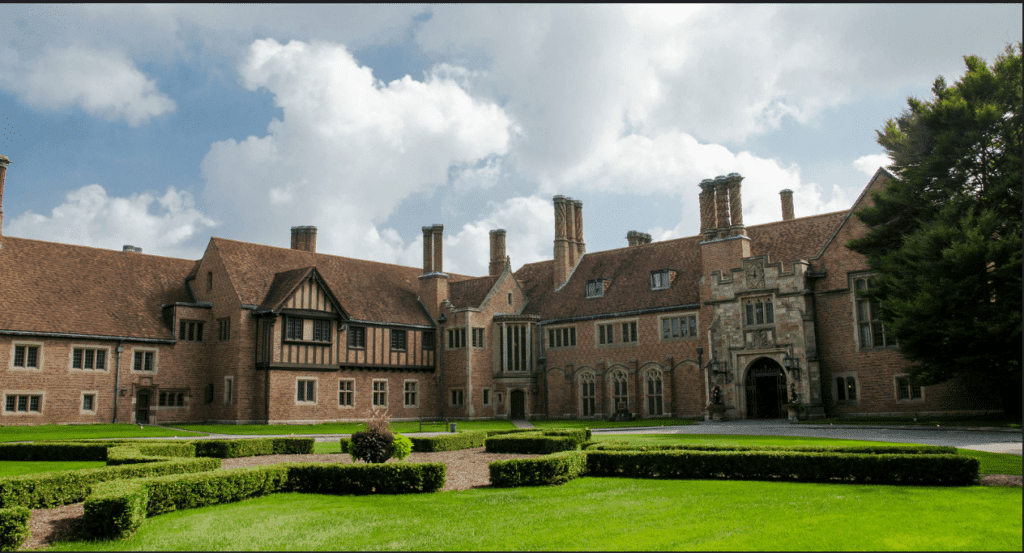 Meadow Brook spread across 1,500 acres of land that include several farm buildings, recreational centers, formal gardens as well as several residences.
The Brook's outstanding history cut across its origin with the Wilson and Dodge families to the establishment of Meadow Brook Hall and the birth of Oakland University.
2. Oakland University Art Gallery (OUAG)
Oakland University Art Gallery is a part of the Department of Art and Art History in the College of Arts and Sciences at the Oakland University.
For over 40 years, the Oakland University Art Gallery has produced several museum-quality arts to several metro Detroit audiences.
The art gallery is known for presenting six different exhibitions from September to May with a wide variety of themes. These include creative themes from innovative contemporary arts to works that explore global and historical themes.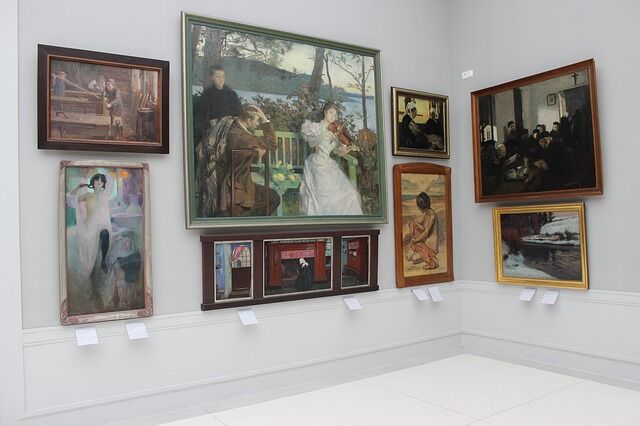 Also, the Oakland University Gallery organizes tours, seminars, performances, lectures, events and a whole lot more.
Exhibiting artists at the OUAG have successfully moved on to participate at world-class invitationals like the Whitney and Venice Biennials. Other artists have featured at several different renowned art fairs and many other prominent projects.
The ultimate mission of the art gallery is to tailor their efforts to match the academic pedigree of the department and to develop people through the intellectual and emotional appreciation of visual arts.
3. Paint Creek Trail
Paint Creek Trail was established in 1983 and it cut across 8.9 miles between Rochester and Lake Orion through a woody corridor along with Paint Creek.
Though the trail is the state's oldest non-used rail trail, the renovation and face-lifts it gets once in a while has kept it in a good shape over the years. The trail is also among the evolving over 2,000 mile Iron Belle Trail.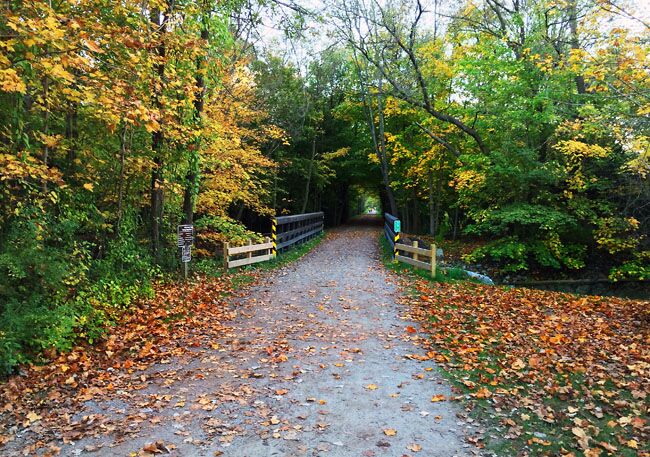 Paint Creek Trail is made up of different routes for biking and hiking from Detroit to Ironwood in the Upper Peninsula. Some of the most fascinating features of the trail include various wildlife, historical sites, a trout-filled creek that the trail crosses up to 12 times, and several rest stops.
To make the tour worth your time and effort, you'll find maps and announcements posted at the trailheads. On the same spot, you'll get the chance to pick up folding maps and other items such as mileage markers that were left over when the trail was still a railway.
Furthermore, you'll find free bike fix-it stations at Goodison, Rochester and Tienken road trailheads.
4. Fieldstone Winery
If you love the taste of top-quality wines, you shouldn't hesitate to visit Fieldstone Winery anytime you're in Downtown Rochester, Michigan.
Fieldstone Winery was established in 2003 by two brothers named Patrick and Steven Mulrenin who started making top-quality wines in their homes.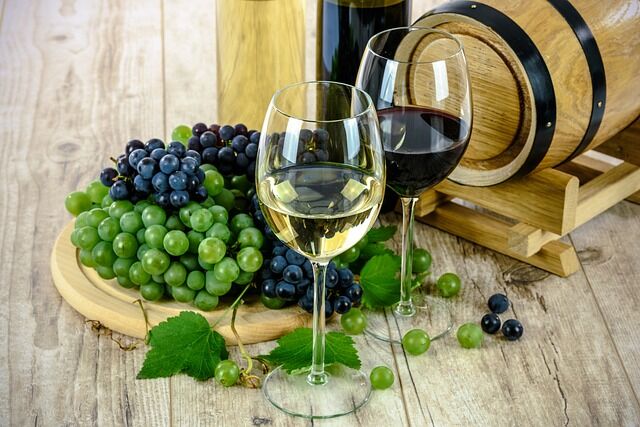 Presently, the winery has customers from different parts of the globe who are delighted to visit and savor the taste of the fine wine.
Presently, the winery has won several different awards including a Gold Medal for our Michigan Traminette at the Finger Lakes International Wine Competition as well as a Bronze medal at the Taster's Guild International Wine Makers competition.
5. Bear Creek Nature Park
The Bear Creek Nature Park spread across 107 scenic acres of land. The Park boasts of several terrains including woodlands, ponds, oak-hardwood forest, fields, open meadows, wetlands, and marshland.
The park is home to several wildlife species including deer, woodpeckers, squirrels, reptiles, birds, owls, and small rodents.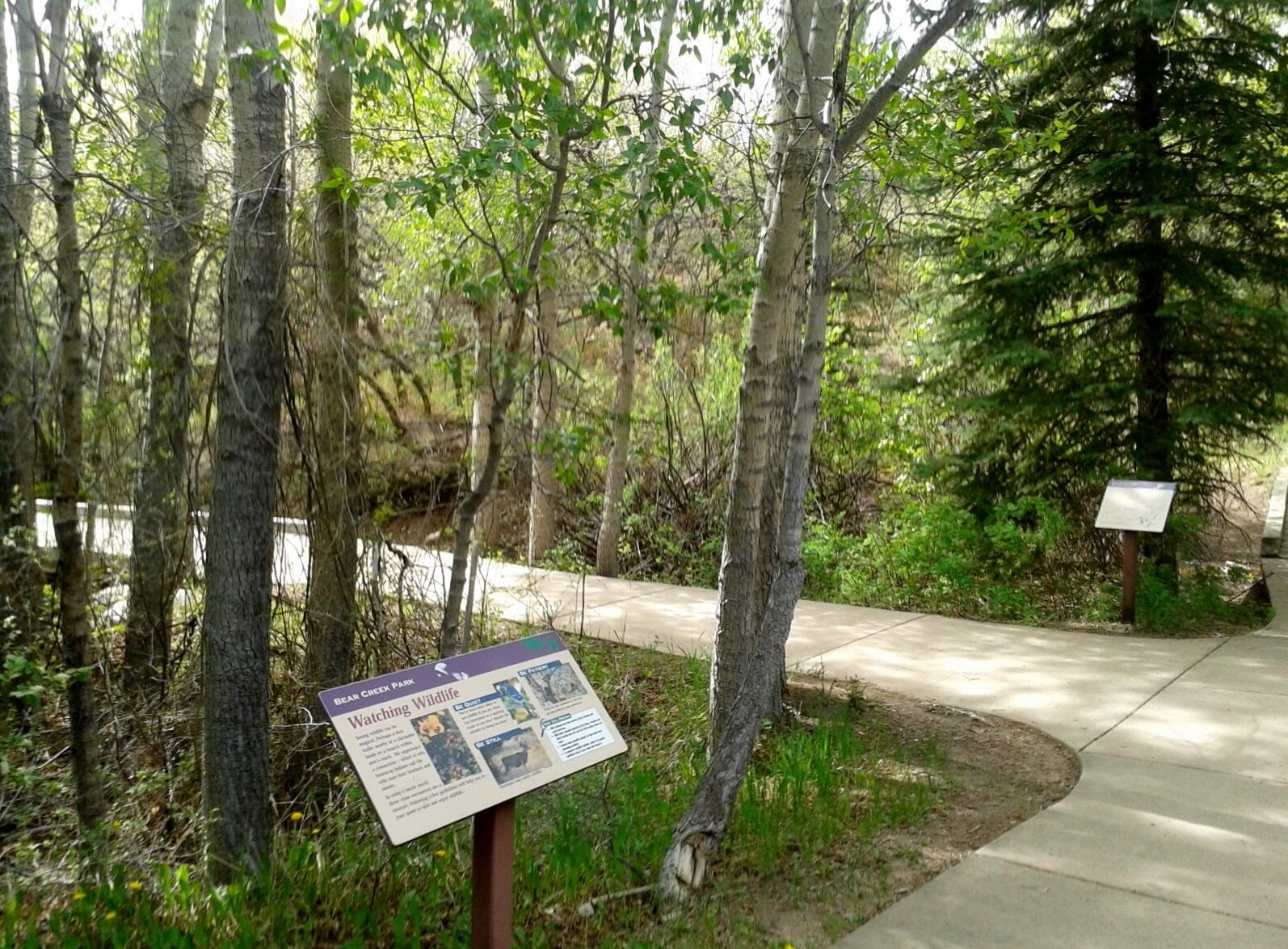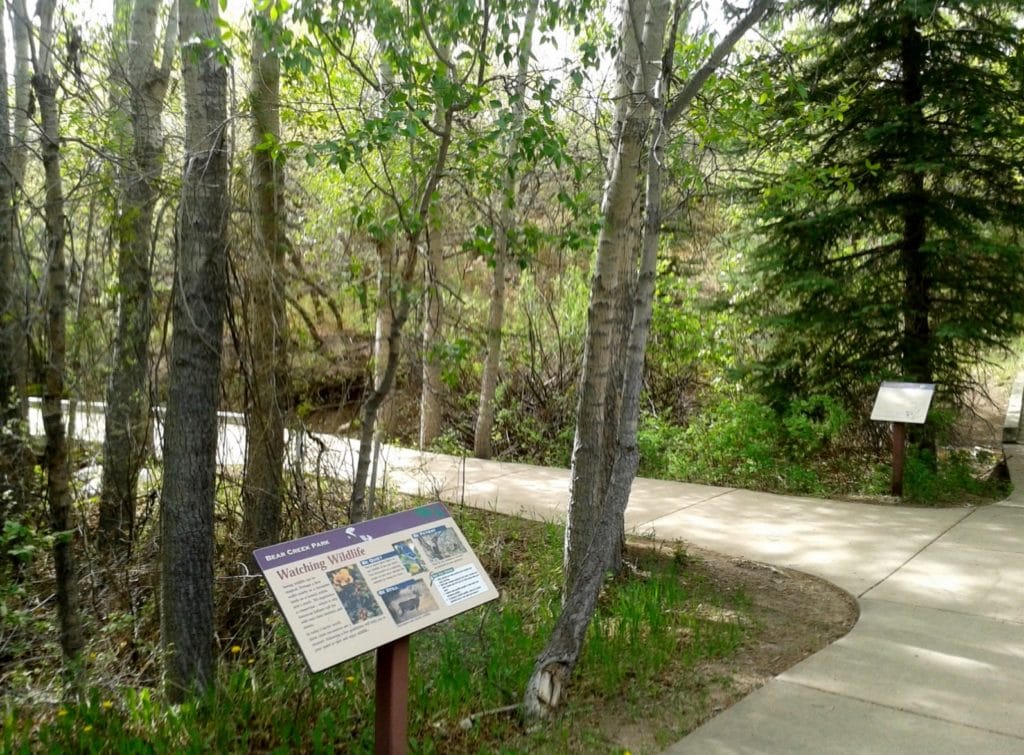 Bear Creek Nature Park is a remarkably tidy 107-acre park located on West Snell road at the east of Orion Road in Rochester. The park's maintenance is done by the Charter Township of Oakland Parks and Recreation Commission.
There are several different things you can do on Bear Creek Nature Park trails including biking, horseback riding, hiking, cross-country skiing and viewing some of Rochester's wildlife in their natural habitats.
The park was acquired in 1977 as the first acquisition of the Oakland Township Park system. Bear Creek Nature Park features an active zone with a new parking lot, council ring, hiking trails, boardwalks, athletic fields, restrooms, a playground, a picnic area, and overlooks.
Some of the common trees in the park include hickory, dogwood, black walnut, elm, sugar maple, and black and white oak. The park also has skating ponds, picnic area, observation decks, and a playground for children between the ages of 5 to 12.
6. Goodison Cider Mill
You can smell the aromas of this cider mill from a quarter-mile before you even set eyes on it. The cider mill is housed off scenic Orion road which is west of Paint Creek Cider Mill in Rochester.
Goodison isn't big; in fact, you can call it tiny. So, you'll have to look closely while driving or you'll miss the spot. But what Goodison can't boast of in size, they make up for in taste. The mill's cider and donuts are famous for having a sumptuous taste.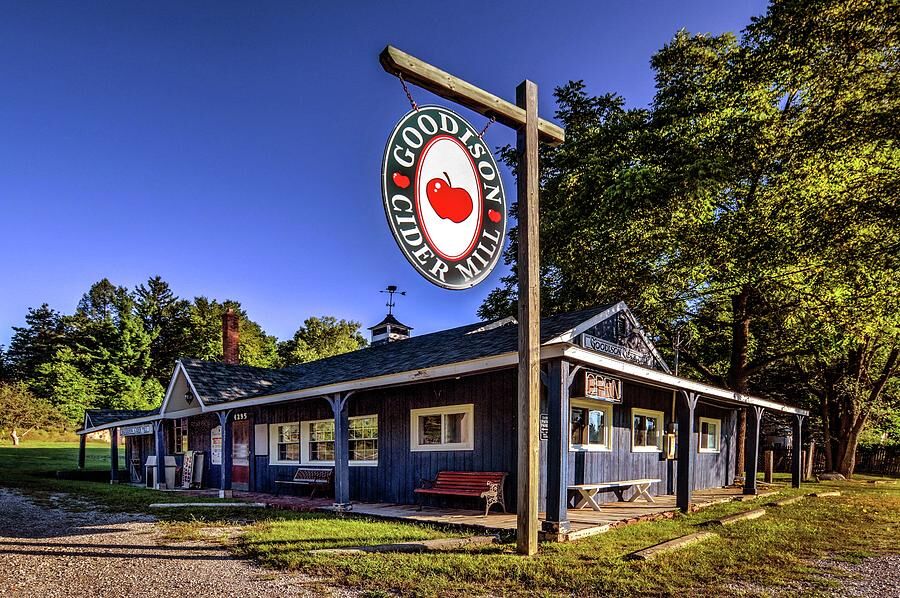 Goodison is famous for being one of the most "genuine" cider mills where everything is produced fresh. While the mill's cider and donuts are absolutely tasty, Goodison is best known for their Pistachio Nut bread!
Once you're in the mill, you'll find a variety of treats including handmade caramel, honey, freshly picked apples, jams, and candies. If you want, you can visit Goodison with your own apples and they'll custom press them for you.